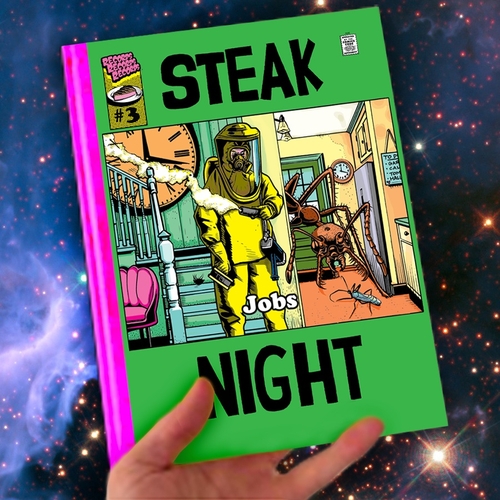 Steak Night 3
| Format | Price | Buy |
| --- | --- | --- |
| Steak Night 3 | £5.00 | |
Description
Steak Night 3
Steak Night #3 - Jobs

As kids, we're encouraged to talk endlessly about what we want to be when we grow up, as if the career paths we eventually settle on will come to define us.

As adults, we hope more than anything that we are more than the jobs we've fallen into.

The road between these two points is paved with humiliation, hard work, disappointment, depression, and shit job after shit job after shit job.

And then we die.

In this, the third life-affirming instalment of Steak Night, an occasional collection of comics and prose compiled by Babak Ganjei and the rest of the team here at Records Records Records, we join our contributors on their journey through the world of employment, and all the joys it entails.

From stories of some of the many magical career opportunities out there, such as undertaker (Henry Clark and Tom Hall) sex-shop employee (Tom Oldham and Babak Ganjei), and mortuary cleaner (Wallis Eates), through insights into the working lives of go-getting modern women (Victoria Manifold, Melissa Trender, Julia Scheele), via tips on how to ace an interview (Amelia Phillips, Harriet Gibsone), and examinations of the abject emptiness of it all (Peter Cline), we take a journey up the career ladder, from the bottom to...a couple of rungs from the bottom.

But it's not all doom and gloom. There's one about dogs having sex too (Florian Lunaire and Eleanor Summers).

Step inside the pages of Steak Night #3, and enjoy a collection of comics and prose from a cross-cultural rainbow of artists and writers spanning all walks of life. Okay, some walks of life.

Steak Night 3 is available now to preorder.
Reviews