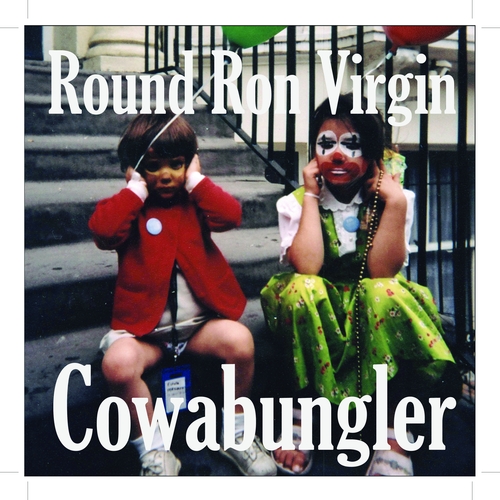 Cowabungler
Available Formats
Tracks
Price
Buy
CD Album
10 tracks

£

0.99

Download Album (

MP3

)
10 tracks

£

7.99
Description
Round Ron Virgin - Cowabungler
The album that started it all... Recorded in 2009 and released the next year, Cowabungler by Round Ron Virgin is the follow up to Oli Chance's previous band Oli 'n' Clive and first ham-fisted attempt at a record release by this label. This time featuring members of the Rumble Strips, Wet Paint, Gold Sounds, Note to Self and more. A sublime album, well worth your ears.
Reviews
Cowabungler is ten tracks of joyous yet slightly dark folk ditties like 'Old Sick & Die' which is a smile inducing call to live for today. Front man Oli Chance, formerly of Oli 'n' Clive', is the star of the show with his dry, humorous yet heartfelt delivery and proud to be a misfit outlook on life. You just have to listen to 'Square Peg' (in a round hole) to see what we mean. Then there's 'Soon Enough' which features the line "Well I'm a lot like Xmas cos I come, I come round once a year". Anyone who can pull off that lyric without laughing is mighty fine in our books even if we have horribly mis-interpreted his words. But you get the impression you're meant to paint your own picture with this band.
Musically the album is a bubbling cauldron of folk instrumentation featuring no less than 25 instruments, ranging from the euphonium to drum machines, guitaleles (kind of like a ukulele we think!), and a personal favourite of ours, the humble yet versatile saucepan-and-floor.
The live band consists of Oli with Babak Ganjei and Melinda Bronstein (Wet Paint), William Reid (Gold Sounds, Disappearers) and Jonnie Fielding (Helsinki, Pan I Am, Carl Barat). The recorded band also features three of The Rumble Strips and one of Dan Michaelson's Coastguards. (Music Mule)
Tracklisting
CD Album (RRRR202118215D)
Round Ron Virgin

- Heart Felt Sore

Round Ron Virgin

- Been Waiting

Round Ron Virgin

- Strong Stuff

Round Ron Virgin

- Square Peg

Round Ron Virgin

- I Love You, But You are Nuts

Round Ron Virgin

- Old, Sick and Die

Round Ron Virgin

- Sailor Song

Round Ron Virgin

- Soon Enough

Round Ron Virgin

- Couple More Years

Round Ron Virgin

- Not Get-Backable
Download Album (RRRR202118215D)